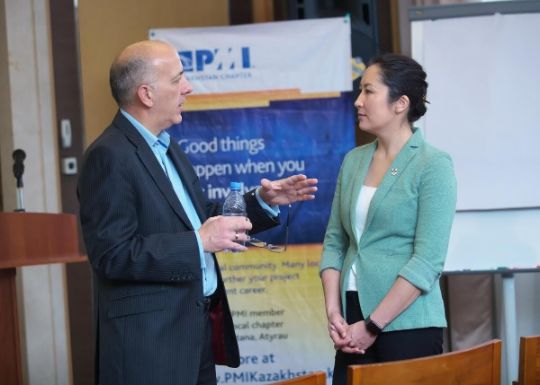 ABOUT THE CONFERENCE
PMI KAZAKHSTAN CHAPTER 2020
SPONSORS
GRANTS - PMI
Platinum Sponsor - AIFC

2020 programms and beyond
A word from BPCD
Bureau for Continuing Professional Development (BCPD Ltd.) provides international professional certification preparatory courses and implements the best international practices to develop human capital and create pool of local professionals with international recognition for the AIFC eco system and beyond.
Умурзакова Анар
Mrs. Anar Umurzakova, Director and a Trainer at GOPM startup consultancy firm in Greater Washington Area, with over 10 years of professional PM experience in various organizations such as Accenture, the World Bank, International Monetary Fund and GOPM consultancy. Presidential Scholar of the Republic of Kazakhstan, who graduated with MS in PM from The George Washington University, PMP and PRINCE2 Practitioner. Currently, she focuses on helping executives and PMs create winning harmonious teams and increase productivity through improving morale. <br> <br>

Mohammed Hamada
Ахмед Хамада Мохамед PhD Должность Ассоциированный Профессор Mohamed_abohamada@yahoo.com Каирский университет, Египет

Anca E. Slușanschi
PMI Board of directors
Anca Slușanschi, from Paraparaumu, New Zealand, is a senior leader with over three decades of experience inspiring people and delivering value in private and public sector organizations. She currently serves as program and project practice manager for the New Zealand Ministry of Education. Ms. Slușanschi's various leadership roles have focused on developing communities of professionals engaged in mastering the application of the agile mindset in project and program management contexts. One of Ms. Slușanschi's most exciting recent assignments has been leading the successful implementation of the Emission Trading Scheme for New Zealand, supporting the Kyoto Protocol obligations under the United Nations Framework Convention on Climate Change as well as the New Zealand Climate Change Act.

Бирюкова Елена Павловна
РМР. Professional Coach. Консультант по стратегическому управлению и развитию
1) Опыт работы с проектами более 20 лет, опыт внедрения проектного управления более 10 лет в коммерческих и некоммерческих организациях на территории Казахстана и России.
2) Бизнес-тренер. Работаю с 8 тренерскими компаниями РК.
3) Основное направление развития - синергия двух подходов: classic и agile с обеспечением talent management.

Uros Denic
I am an Oil & Gas industry professional with 5 years of experience. Worked in different countries in domains of surface facilities engineering, project management, technical supervision and management support. Before joining O&G industry, I have spent 6 years in NGO sector and start-up industry. I hold degrees in Structural Engineering, Business Economics and Business Analytics – Columbia University. Obtained education in Oil & Gas Engineering and Management from IHRDC-MOL Talent Development Program. I am a PMI certified Project Management Professional (PMP) and a member of PMI
Альжан Фазылов
Qazaq Project Management
Анара Асылбекова
DA Champion: Новый путь PMI
Анара является сертифицированным PMP, Disciplined Agilist, обладает опытом управления портфелем ИТ проектов в Центральной Азии, Азиатско-Тихоокеанском регионе и Европе. Впечатляющий опыт работы на рынках Fintech и Stock Exchange. Продвигает Agile в Казахстане, Agile коуч и тренер. Волонтер PMI Чаптера Казахстан. PMI DA Champion. Перевела Руководства по Скраму на казахский язык.

Фото на память. Обсуждения, Вопросы
© 2019 All rights reserved.