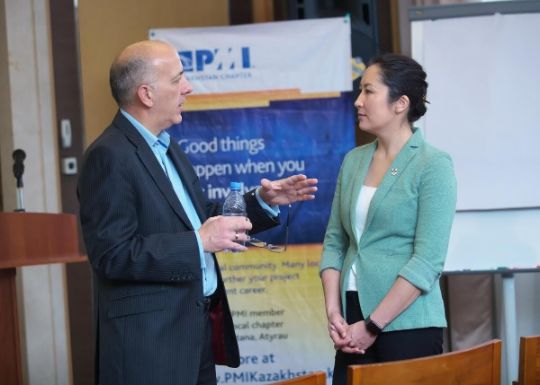 ABOUT THE CONFERENCE
PMI KAZAKHSTAN CHAPTER 2020
SPONSORS
GRANTS - PMI
Golden sponsor - Microsoft
Platinum Sponsor - AIFC

leading people through change
Adrienne Gibson
Originally from Montgomery, Alabama, I'm a southern girl at heart with a big passion for exploring, connecting with and making a difference in the world. With my southern roots, I followed in the footsteps of my parents and grandfather as the third generation to attend Auburn University, becoming an Auburn Tiger at heart. I've carried that spirit and my southern hospitality around the world landing across the pond, now calling London my home and the base for my global work and exploration since 2009. The Auburn Tiger is now also an England rugby fan. Southern roots with global wings.
Султанов Мадияр Пархатулы
*сертификация PMI ACP
* Trainer: 2y E&Y Academy, частная практика RMD effective solutions.
* Действующий PO в международном стартапе.
* Адаптация новой симуляции Scrum на рынке Кз ( отходим от Lego)

Умурзакова Анар
Mrs. Anar Umurzakova, Director and a Trainer at GOPM startup consultancy firm in Greater Washington Area, with over 10 years of professional PM experience in various organizations such as Accenture, the World Bank, International Monetary Fund and GOPM consultancy. Presidential Scholar of the Republic of Kazakhstan, who graduated with MS in PM from The George Washington University, PMP and PRINCE2 Practitioner. Currently, she focuses on helping executives and PMs create winning harmonious teams and increase productivity through improving morale. <br> <br>

Бирюкова Елена Павловна
РМР. Professional Coach. Консультант по стратегическому управлению и развитию
1) Опыт работы с проектами более 20 лет, опыт внедрения проектного управления более 10 лет в коммерческих и некоммерческих организациях на территории Казахстана и России.
2) Бизнес-тренер. Работаю с 8 тренерскими компаниями РК.
3) Основное направление развития - синергия двух подходов: classic и agile с обеспечением talent management.

© 2019 All rights reserved.